Regular price
Sale price
$77.00 USD
Unit price
per
Sale
Sold out
Share
Our best selling non-toxic skincare set gift wrapped as the perfect pampering set for the holidays.
This set contains four products:
Vitamin C Facial Cleanser
Soothing Toner Mist
Face Serum
Rejuvenating Moisturizer
Vitamin C Facial Cleanser: Formulated with premium, non-toxic ingredients, it gently cleanses the skin to leave the face feeling fresh, hydrated, and pampered. Ingredients:  Organic Aloe barbadensis Leaf Juice (Aloe Vera), Cocamidopropyl Betaine (coconut-derived gentle surfactant), Cucumis Sativus (Cucumber) Extract, Kosher Vegetable Glycerin, Decyl-glucoside (coconut-derived gentle cleanser), dl Panthenol (vitamin B5), Organic Avocado Oil, Ascorbyl Palmitate (Vitamin C), Allantoin, Tocopherol (Natural d-alpha tocopherol), Ethylhexylglycerin, Phenoxyethanol.
Soothing Mist: Leaves your skin feeling refreshed and hydrated. Ingredients: Rose Water, Witch Hazel, Frankincense, Royal Hawaiian Sandalwood, Lavender, Clary Sage, Carrot Seed and Patchouli Essential Oils.
Face Serum:  Designed to lock in moisture, heal blemishes, acne, and scarring, and even out skin tone for the ultimate in radiant complexion. Ingredients: Jojoba Oil, Lavender, Tea Tree, Frankincense Essential Oils. 
Rejuvenating Moisturizer: Deeply hydrates and repairs damaged skin cells, reducing fine lines for a youthful, glowing complexion. Ingredients: BTMS-50, Grapeseed Oil, Stearyl Alcohol, Emulsifying Wax, Argan Oil, Rosehip Oil, Sweet Almond Oil, Geogard 221, Jojoba Oil, Olive Oil Squalane, Vitamin E. Lavender scented contains Lavender Essential Oil.

All three items are handcrafted with non-toxic and natural ingredients.
These products have no synthetic fragrances, or artificial dyes.
View full details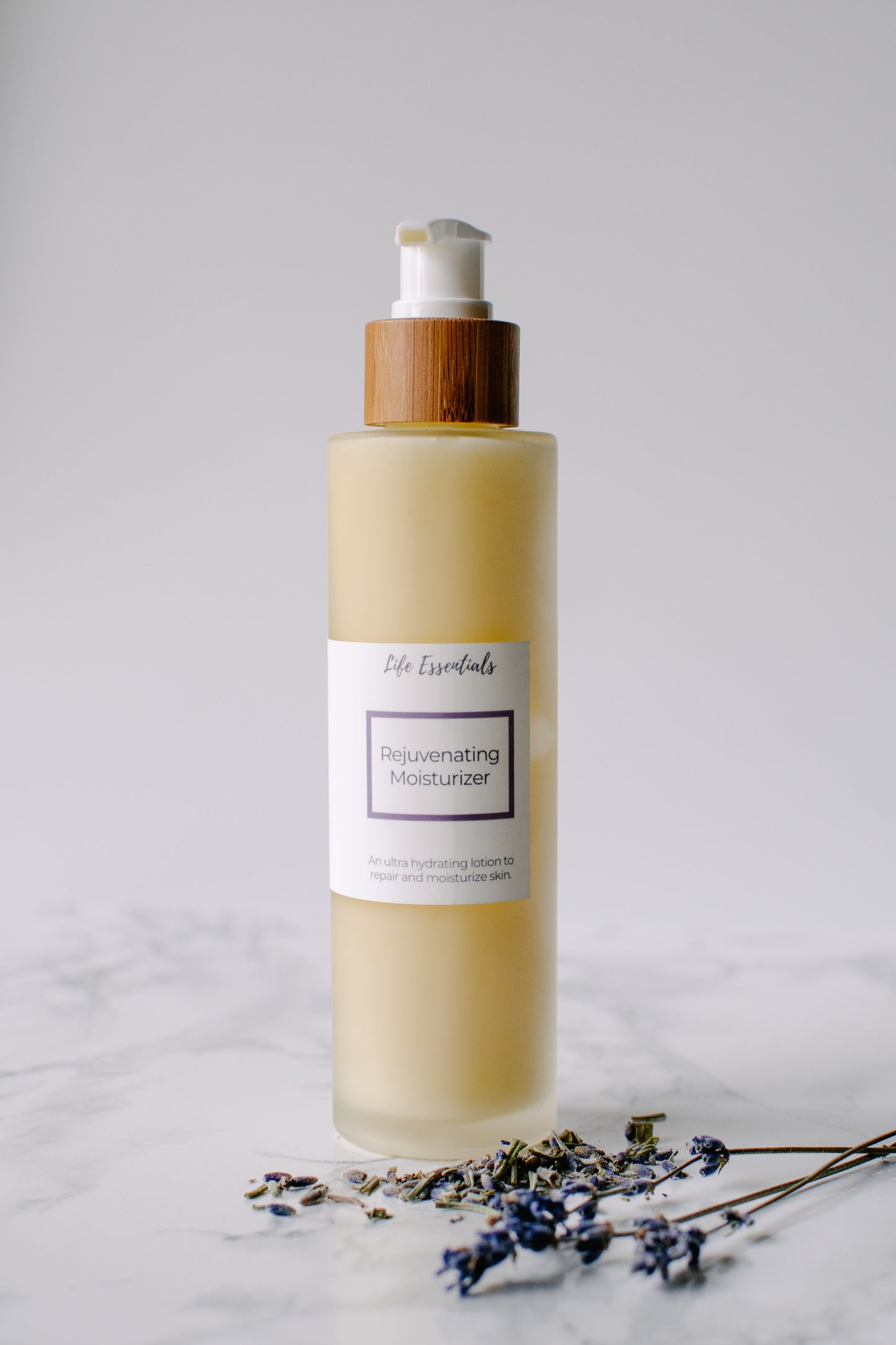 I've struggled with finding products that helped me so my skincare has always been on & off but once I started using your products I saw progress. I was finally able to make a routine that just because part of "me time" to decompress & relax!
Your products seriously are the best. I'm the worst about staying on a routine but I can't get enough of the smell and the feel of the face serum and soothing mist. And I'm lovinggg the unscented moisturizer (although I loveee the smell of the other one). Tonight was the first night I got to try the cleanser and holy crap, my skin feels so nice.
I am seriously LOOVING this!! I love the smell of the mist, the oil is a non greasy texture, and the moisturizer is my favorite!! The moisturizer feels so high end. After applying all three products before bed I feel refreshed and so healthy!! I totally recommend this est!
So far so good
Very easy regimen. So far I like all the face product. The only thing I notice is my makeup doesn't stay on all day with it. So, I stopped using the oil in the morning and it seemed to help.